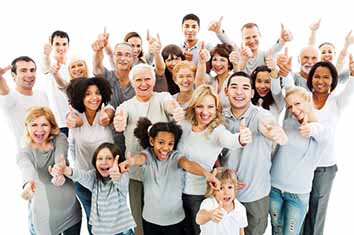 ★ ★ ★ ★ ★ June 2017
"I am very happy with my experience here. Upon entering, the office is pristinely clean, open, and modern. The receptionists are so welcoming and it really is nice to receive service with a genuine smile and conversation. The Optometrist I saw, Dr. Allison Moy, was quite knowledgeable, answered all my questions thoroughly, and I did not feel rushed by her at all. The Optician who helped me choose a pair of frames was graciously honest and I feel I walked away making the right choice for my look. I went to pick up my new frames today and I am so pleased. The fit and feel are great. I don't often take the time to review businesses but felt compelled to write one today because I am so satisfied with this clinic."
~ Jodi L.
★ ★ ★ ★ ★ May 2017
"I really think this place is fantastic and they have all the "best of" awards to prove it! From the doctors to all the staff this place is top notch. I have worked with Soun, Joanna, and Brian most recently for eyeglasses. Soun and Joanna helped me pick out a beautiful pair of reading glasses and they called the next day when they were ready! Wow what service! Brian delivered my glasses today and adjusted an older pair I had that needed a little tlc. I highly recommend this place to anyone needing eye care and glasses in the area. You won't be disappointed."
~ Lorraine D.
★ ★ ★ ★ ★ April 2017
"The doctors are amazing!! They helped me find two pairs of amazing glasses and I got two pairs of Halloween contacts. Stephania is an amazing stylists with glasses."
~ Armando S.
★ ★ ★ ★ ★ March 2017
"Recently, I visited Dr. Gelt at Clearvue Vision Center. As I walked in I was greeted by I sweet young women she explained what I could expect from my impending appointment. Next Dr Gelt's technician called me back she was so caring, I have white coat syndrome and often feel anxious visiting the doctor, she reassured me and made me feel at ease. THEN the doctor came in. She has such a way of explaining that was happening with my eyes and what steps I need to take to slow the progression of my cataract. I have never felt a personal connection with a doctor like I did with Dr. Gelt. Finally I must say I am IN LOVE with my new Ferragamo sunglasses! They are amazing! The girl who helped me was so sweet and stylish! I love my glasses and wear them more then any I have ever had. Do yourself and your eyes a favor and go to Clearvue!"
~ Mary B.
★ ★ ★ ★ ★ March 2017
"I went here a few months ago for my contacts/glasses exam. The eye Dr. was professional and thorough, and I didn't have to get air blown in my eye. Huge relief for me LOL I wanted to pick out some new frames, so an optician assisted me with that and she was great! Although I ended up spending more than I'd hoped, I ended up with super cute Kate Spade frames which I love and fit my face perfectly. The reception was wonderful and I have absolutely no complaints. Highly recommended."
~ Nicole C.
★ ★ ★ ★ ★ November 2016
"They had some issues with my insurance, and it got extremely frustrating because the insurance woman wasn't friendly. HOWEVER, the tech, I can't remember her name, but she's a sweet, friendly, respecting woman with light brown hair, was a DOLL. Spectacular customer service. The other tech women were very kind as well. Now the Doctor! Dr. Gelt! She was absolutely amazing. Very considerate and kind. I was helped by a very nice woman to pick out glasses as well. She was very helpful and insightful. When I came back to get my glasses, a very nice man brought them out and fitted them perfectly to my face. All of the employees around me were being very kind to their customers. Every business needs to follow in their footsteps. This is why I gave them 5 stars. I've never been given such great care through any business. Check it out for yourself!!"
~ S. S.
★ ★ ★ ★ ★ October 2016
"One of the best experiences I've had purchasing eye glasses. There is a large variety of frames and the professional staff worked with me to fit glasses perfectly and they coordinated insurance benefits. I'm very happy and a satisfied customer."
★ ★ ★ ★ ★ October 2016
"Always satisfied with my visits. Suggestions I'd make to the Facebook page is to create events and include links to brands you are posting about."
★ ★ ★ ★ ★ September 2016
"Dr. Heitmeyer went above and beyond with my eye care. Bryan acknowledged my condition was outside the needs of his care and spent his personal time seeking the best doctor – allowing me to obtain immediate alternative care. I so appreciated his extra effort and was impressed when Dr. Heitmeyer followed up with me at the end of the day to ensure I had received the necessary care and that I was pleased with his recommendation. Who does that these days?!!!!!"
★ ★ ★ ★ ★ July 2016
"If you need to get your eyes checked, I highly suggest Clearvue because of the experience I had. The doctor spent a little extra time with me during the exam which went along way because this was my first eye doctor appointment in years. The staff was quick, friendly and very helpful. I asked for an itemized receipt before my glasses were ready and they took care of it with no problem. Great staff, great office equals a winning combination to me."
★ ★ ★ ★ ★ June 2016
"Let me just start off by saying that it is always a pleasure to see all of the beautiful young women at this practice! Eye candy is never a bad deal. I have been coming to Clearvue for all of my current routine eye exams and now my Lasik pre-op and post-op examinations. I am delighted by the fact that from start to finish, I am always taken care of while in their care. Thanks to how diligent and hard working Clearvue's front staff is, I never miss an appointment. They are always there to remind me of my agreed upon, scheduled appointment date. I have always felt comfortable with the staff and Doctors at this practice. I feel like they really go above and beyond to make sure all of my needs are met! They really made the process of going through Lasik eye surgery a smooth and painless adventure. When it comes to your eyeballs, trust is key and they definitely have mine. Another plus side to this Practice is Dr. Moy. She is absolutely fabulous and I would highly recommend her to anyone. She is very knowledgeable in her field and always does a good job to inform me of what is going on with my eyes. I would like to finish off by saying that Clearvue vision always leaves me with that "feel good" feeling that we all long for. There are no disappointments here. Oh, I almost forgot to mention that they have AWESOME snacks in the waiting room for that small chance that you are ever in there for more than a couple minutes. Cookies, Chips, Water, Mints. It was the Ritz Bitz that sealed the deal for me! Nom Nom. I will be loyal to Clearvue for as long as I am in the area."
★ ★ ★ ★ ★ June 2016
"This clinic continues to impress! The doctors bedside manners are amazing and they have successfully treated my dry eyes. Although I'm a full time contact lens wearer, I love the selection of frames for men and try to pick up a new pair of backup glasses every other year…very trendy and cool stuff. The optical staff is great at helping select styles that look great and are always available for adjustments when needed. I see why they consistently win awards every year."
★ ★ ★ ★ ★ April 2016
"I highly recommend! My first-time visit to Clearvue, it was a great experience, staff was extremely friendly and helpful all the way thru the process.
Special thanks to Dr. Moy who listen to my eye care needs and was very understanding. She took EXTRA steps to make sure I was setup properly with the right prescriptions. I was very impressed and has won my future business. Thanks!"
★ ★ ★ ★ ★ December 2015
"I have been seeing Dr. Bryan Heitmeyer at Clearvue for about 4 years. I picked them for their convenience to my workplace, and kept coming back even after I switched jobs for their truly extraordinary care and customer service. Stephania in the vision center has helped me pick my frames each time and is wonderful to work with. I recommend Clearvue to anyone seeking outstanding eyecare in the Kent/Tukwila area."
★ ★ ★ ★ ★ November 2015
"Dr. Moy is the best!!! She listened to my concerns regarding my eyes, and remained straightfoward. She was balanced in giving preventive care advice while being realistic about potential future eye problems. I do NOT trust people with my eyes, but her I will trust again!"
★ ★ ★ ★ ★ June 2015
"I have been going there about 2 yrs, they have great service! I would highly recommend this place!"
★ ★ ★ ★ ★ June 2015
"It feels like home everytime we come here. Staff are accomodating and friendly. They attend to your needs with more than you expected. Special shoutout to Brian who was very patient with us when we are trying out some eyeglasses. I ended up getting 2 pairs of ICBerlin and a Kate Spade sunglasses. Its worth it!"
★ ★ ★ ★ ★ May 2015
"All staff and Doctor we met with were so helpful and really seemed to care about making sure we got the right type of eyewear for our lifestyle."
★ ★ ★ ★ ★ May 2015
"The facilities are very clean and the staff is very friendly and professional. They have all the equipment for a full eye exam and don't push you to add anything on that you don't want to. I felt like I was in very competent hands."
★ ★ ★ ★ ★ March 2015
"Stellar service and friendly staff! I have been coming here for 7 years (since it opened) and my family and I have been a patient of Dr. Gelt for over 14 years. I highly recommended her to all my friends and family. Great eye wear selections as well! The specialists are great at helping you find the perfect frames and lenses."
★ ★ ★ ★ ★ February 2015
"Dr. Gelt is a great eye doctor that's very thorough and does a nice job explaining what's going on with my eyes. I've suffered from dry eyes for a while and other doctors could not seem to help my issues. I'm now on a regimen she prescribed and wearing better contacts and couldn't be happier. The staff is very friendly and the practice is really nice. They also have a great selection of unique men's frames. I've had both Kate and Brian help with glasses and they are extremely knowledgable and understand what looks good! I highly recommend them and like the fact that I can get in after work on some evenings!"
★ ★ ★ ★ ★ January 2015
"I went to Clearvue Vision Center looking for help with dry eyes. I have not been to an Optometrist for a long time and Dr. Heitmeyer was friendly and made me feel very welcome. He went above and beyond to help me during appointments and on his own time. I had difficulty getting my prescription and he did all he could to assist. Dr. Heitmeyer responded promptly to my emails, changed my prescription quantity to better meet my needs, and informed me of a program that assisted me financially. I would highly recommend Dr. Heitmeyer to anyone looking for a new Optometrist."
★ ★ ★ ★ ★ July 2014
"I was visiting friends when my Oakley sunglasses broke. My friends are patients at this place and called to see if they could help me out. Since they carry Oakley glasses they were able to order a part to make the repair so I could wear them while I was staying here. The people are super nice and I was pleased with my experience!"
★ ★ ★ ★ ★ November 2014
"Clearvue is an exceptional optometry shop. Kent was a stretch for me to drive but knowing that optometry is a commodified business that survives on reputation and referral, I took the good word of a friend to get my next check-up there.Dr. Bryan Heitmeyer is an affable professional with a great doctor-patient sensibility. He gave me his full attention, wasn't hurried or bored, and adjusted his procedures when my eyes needed some extra dilation. Dr. H. is precise and friendly, and he got me in and out quickly and easily. Excellent doctoring withstanding however, the party piece at Clearvue and the real reason to make the drive to Kent is to see optician & buyer Steve Cole. He can tap his nail on a glasses frame or lens and tell you what it's made of and its associated quality – he's that good. Steve's sartorial sense, defined by wearing a tie every time I saw him, is only exceeded by his decisive manner with people who are shopping for frames. Given just a few of my preferences and the shape of my face, Steve went about pulling a wide variety of frames on the shelves from different makers. For every frame I tried on Steve would look at me for no more than two seconds and give me his assessment, either "Yes", or "No". This made for a speedy, collaborative shopping experience, which is exactly what I wanted. Steve's knowledgable about what's in store, what he can order in, and adept at advising what shapes, colors, and materials fit someone's style. It helps that he has a variety of glasses himself, all of which look outstanding – I can trust him. So when you want your eyes checked, I strongly recommend you go see Dr. H. and ask for Steve if you're looking for new frames. It's a good way to spend an afternoon."
★ ★ ★ ★ ★ November 2013
"I highly recommend Clearvue vision center and Dr Heitmeyer. Been coming here for years and will continue to come here. There is just something so great about this place.You can make appointments online which is very convenient! Staff is very friendly. Doctors are super knowledgeable. Overall a great experience!!!"
★ ★ ★ ★ ★ April 2014
"Being the daughter of an optometrist from the Chicago suburbs and having had to wear glasses since I was 11 years old, I bugged my mom for years to tell me just when someone was going to 'invent' the eye surgery I needed so that I wouldn't need glasses anymore. Fast forward to 2000 and living in Renton, WA, she said okay now you have have that surgery! It was awesome that Dr. Lomas was just a few miles from my home and he and Dr. Alexandra Gelt performed my Lasik procedure. They weren't satisfied with the initial results in six months had me come back in and tweaked it. I have not had any issues since and it's been over 14 years! Technically I have been a patient of Dr. Gelt's for that long and was extremely happy that she partnered up with Dr. Heitmeyer to open Clearvue Vision Center. The staff is always cordial and extremely knowledgeable from the front desk receptionists to the technicians to the the opticians. And Dr. Gelt and Dr. Heitmeyer and very patient and take the time to explain everything the are doing from the testing to what your particular needs are. I have always felt that my questions are answered and that they are truly taking care of my eye health. A few years back I was told that I was susceptible to macular degeneration because I have light eyes and an aversion to light brightness. I was not pushed into taking any precautionary methods, just advised but then I was shown proof the following year with the cool topographical eye maps that I needed to add some particular vitamins to counteract these effects. Went in today for my annual exam. No changes in eye sight which is still excellent and taking 'Restore' for about a year has improved my eye health significantly and the added benefit is that they are not so dry anymore! Please Please – take care of your eyes – Clearvue Vision Center will fulfill all your needs both young and old patients and work with your insurance companies. Bonus is the coffee, tea, water, cookies and loads of magazines in the waiting room. Oh yes, did I mention that I can always get an appointment on short notice if I can't make my regular exam date. They truly are the best eye doctors & staff in Seattle not just Kent!"